Dearest Merchants,
We are so excited to share with you everything we've released in the Spring Quarter of 2019!
Below you will find details for each of the new features, feature enhancements and bug fixes we've developed & released in the past quarter in order to improve your Poynt experience.
If you have any questions, comments or feedback regarding Poynt software updates, please email: merchantfeedback@poynt.co.
We want to extend our deepest gratitude to you for being a Poynt merchant and we wish you success and growth in the upcoming quarter!
Sincerely,
Jaclyn & The Poynt Team
----
NEW RESOURCES: 
1. Poynt Forums: Introducing Poynt Forums, a place to connect with other Poynt merchants.  Learn about new features and enhancements, tips on how to maximize your experience and share best practices.  Visit https://discuss.poynt.net/c/merchants to join in the conversation.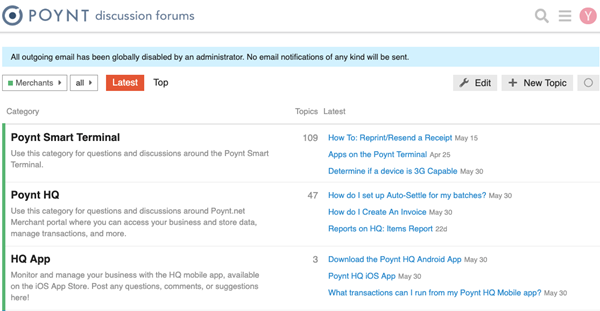 2. New Merchant FAQs: We've added additional articles in our Poynt Help Center to continue to support you and answer any questions you may have. Some of our new articles are included in the list below. 
For access to additional FAQs, visit support.poynt.com
3. Poynt Customer Support Phone Number: In addition to contacting your Reseller for support, we've also surfaced the Poynt Customer Support phone number in our Help App to make it easier for you to reach out to Poynt and get the support you need.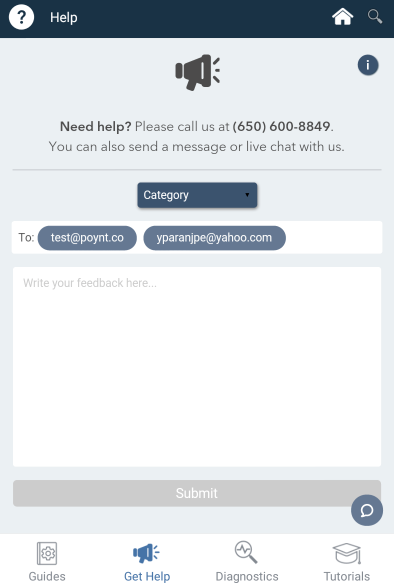 NEW FEATURES:

1. Terminal Tutorials: These interactive tips appear when the Poynt Smart Terminal is powered on for the first time. They cover how to: (1) Accept Quick Transactions; (2) Create an Itemized Order; (3) How to Settle Your Batch; and (4) How to Process Refunds. These tutorials can be accessed and re-played at anytime by going to the Help App > Tutorials.

2. Web Tutorials: These interactive tips appear when a new merchant logs into Poynt Web HQ (merchant portal) for the first time. They cover how to: (1) Set Preferences For Your Business; (2) Create A Menu Of Your; (3) How to Settle Your Batch; and (4) How to Process Refunds. These tutorials can be accessed and re-played at anytime by going to the Help App > Tutorials.

3. Terminal App Taxes: We now support taxes within the Terminal App. You can create default Tax values from "Business Settings" on the device and apply taxes to all transactions in the Terminal App.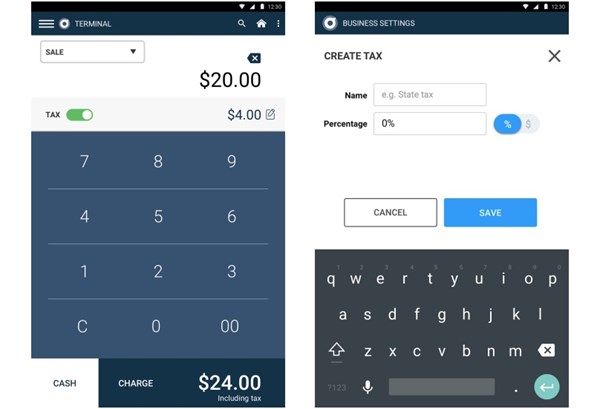 Once taxes are enabled in the Terminal App, and merchants process transactions with taxes applied, merchants will be able to generate our newly enhanced Taxes report which includes a summary breakdown of all the different categories of taxes as well as line item details of each transaction.

FEATURE ENHANCEMENTS:
We've released several enhancements this quarter to pre-existing features to help improve your experience with processing payments, settlements, reports and more. We've curated a list of the top 10 feature enhancements we've released this quarter.

Processing Payments: 
1. Support For China Union Pay: We now support China Union Pay BIN which allows merchants to be able to accept Union Pay credit cards in the Manual Entry app. 

2. Refund, Void, or Capture a transaction from Poynt HQ: If this feature is toggled ON for a merchant's account, the merchant will be able to take action (i.e. refund, void, capture) on specific transactions. 

3. Skip CVM: We now off have the capability of toggling off CVM (Online PIN, Signature) for merchants. If this feature is enabled, merchants will be able to skip CVM when processing payments. If merchants are interested in enabling this feature, please contact Poynt Support: support@poynt.co.

Settlements:

4. Settlement Sweep: If after 7 days a merchant has unsettled transactions, our system will automatically settle those transactions on behalf of the merchant. This will help prevent unsettled auths from expiring. 

5. Auto-settle Accounts With Deactivated TIDs: If a merchant's TID is deactivated for any reason, we will now will automatically settle open batches to prevent delays in settlement/funding.

6. Automatically Generate Missing Settlement Reports: If a Settlement report fails to generate due to backend dependencies or load related issues, we will now automatically re-generate merchant's Settlement reports.
Reports: 
7. Enhanced Reporting: We've received a lot of feedback from merchants regarding Poynt Reports. We've listened to the feedback and have made the following improvements below:
(A) These are the improvements we've made to pre-existing reports (i.e Items, Orders, & Tips):

Prominent Summary Section:

The header section now includes a detailed summary of important information (i.e. Total Items Sold, Total Fees, Total Tips, etc.).

Category Level Breakdowns:

We've included additional category level breakdowns within each report (i.e. tax type, discount type, fee type); previously we were just displaying totals.

Line item data:

Each tax/discount/fee/item is broken out in its own individual row so that merchants can more easily work/leverage the data when they export reports as XLS or CSV files.

Reporting Accuracy:

We've improved the reporting accuracy ( i.e. if an order status is completed but the transaction was refunded, previously we were still treating it as a successful order in tax/item/discount/fee calculations).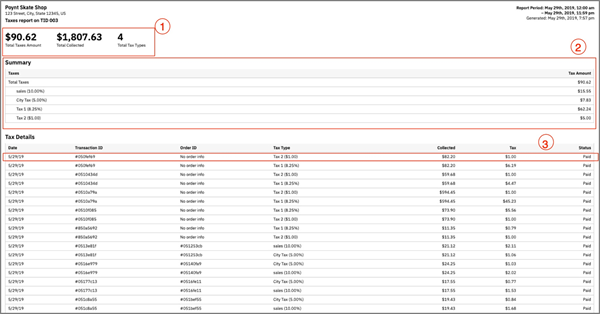 (B) We've also created two new reports & have vastly updated our taxes report to make life even easier for merchants:
Discounts Report:

Discounts applied to orders in the Register app now appear in their own separate report:  Discounts Report. Previously discounts were bundled into the Orders Report. This new report will include a summary of each type of discount as well as a line item break down of each order in which it was applied.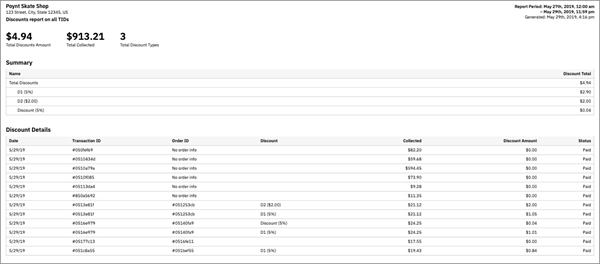 Fees Report:

Fees also now have their own dedicated report - Fees Report. Previously fees were bundled into the Orders Report.  This new report will include a summary of each type of fee as well as a line item break down of each order in which it was applied.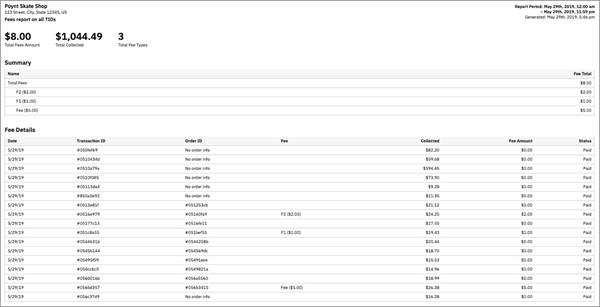 (C). We've released a more robust version of our Tax Report: Now merchants will get a comprehensive summary of their total taxes applied and total taxes per tax type. We also now provide a comprehensive breakdown of taxes applied to individual line items (including transaction id, order id, tax and status of the order). 
Additionally, with the latest software release we now support the ability to create, edit and apply taxes within the Terminal App. In addition to the enhancements we've made to the pre-existing Tax Report, we've also bundled Terminal App taxes within the enhanced Tax Report.This new report will include a summary of each type of tax as well as a line item break down of each order or transaction in which a tax was applied.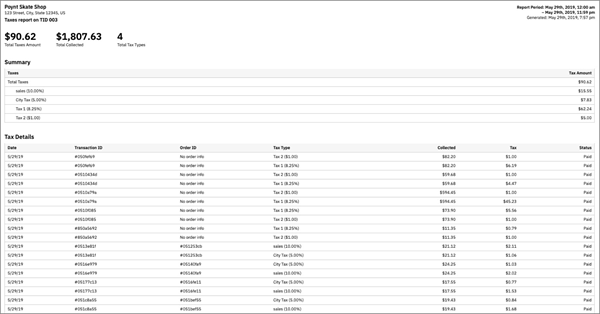 Additional Enhancements: 
8. View Which Taxes Are Associated With Specific Catalogs: Now merchants can see which taxes are associated with specific catalogs. This will prevent merchants from creating duplicate taxes or other unintended changes.

9. Customer's Tab: Under the "Customers" Tab, if a merchant clicks on the icon next to a customer's name, they will see a pop up with that specific customer's history (i.e. total visits, total amount spent, etc). Now if a merchant clicks on the "Transactions Tab" in that pop up, they will see all transactions for that specific customer (including transactions older than 6 months).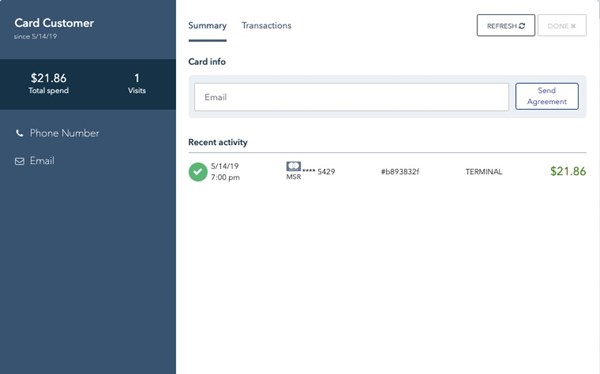 10. Poynt Beta Loyalty Program Enhancements: Our team has made some enhancements for merchants who have opted into our Poynt Beta Loyalty Program:
High level analytics: I

n the "Customers" tab in Poynt HQ web portal, we've added (1) average amount customers spend per visit; (2) average visits per customer;  (3) number of returning customers; (4) number of unique customers; (5) customer frequency; and (6) loyalty rewards redeemed.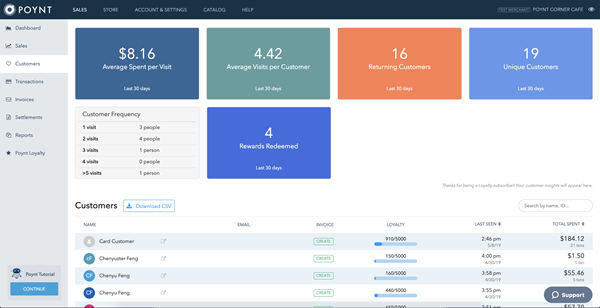 Multiple rewards:

Customers of merchants who have the Poynt Loyalty program enabled, can now earn multiple rewards for a single transaction (eg 1 reward for $50 spend is your setting, customer will get 2 rewards for a $100 spend in a single transaction).

BUG FIXES: 
We've fixed hundreds of bugs this quarter to improve your experience with reboots & freezes, printing, network connectivity, software updates, processing payments, and more. We've curated a list of the top 20 bug fixes we've released this quarter below: 
Reboots & Freezes:

1. Fix Several Crashes: We fixed several crashes that result in merchant seeing a message that says "Unfortunately Poynt Services Has Stopped Working".

2. Reduced Shut Downs: We fixed several issues that caused the terminal to shut down due to printer voltage spikes.
3. Transactions List Freezes: We fixed an issue where the Transactions app would freeze. If merchants tapped on any transaction from the transactions list the screen would lock without any transaction detail being displayed. This would require merchants to reboot the device. 
Network Connectivity:

4. Fix For Cellular Enabled Terminals Losing APN Configuration: We fixed an issue where 4G terminals (beginning with the serial number P61B) would lose their APN configuration.
Software Updates: 
5. Fix For Maintenance Window Being Triggered Outside of Maintenance Window Time: Previously when merchants powered off terminals during the regularly scheduled maintenance window, our system would trigger the maintenance window as soon as the terminal re-connected to the internet. Often this occurred during business hours and was an inconvenience to merchants; therefore we've blocked any maintenance window triggers that occur outside of the regularly scheduled time. 
Processing Payments: 
6. Fix Debit Error: Fixed an issue where DEBIT transactions declines with error "Debit Refunds must include pin". This is a result of AID AutoSelection for NON-REF REFUNDS. 
7. Fix For Debit Optimization (in US): Fixed an issue when merchants press "Cancel" on the pin screen during a debit sale and the terminal does not switch to credit. 
8. Fix Manual Entry Transactions Keypad: For manual entry transactions, we were only exposing a numeric keypad for street validation. We now expose an alphanumeric keypad for the street field and numeric keypad for zip code. 
9. Fix For Manual Entry DCC (Dynamic Currency Conversion) transactions: Previously if a card was not eligible for DCC we used to automatically reject the card; now we allow the transaction to go through as a regular transaction.
10. Fix For Terminal App: Fixed an issue where although a merchant completes a transaction in the Terminal App, the previous sale amount still shows next to Charge. 
11. Fix For Cash Transactions: Fixed an issue where merchants were unable to do cash transactions when the device was not connected to internet.
12. Fix Partial Refund: Fixed issue where merchants encountered an error when attempting to process a partial refund on the web portal.
13. Fix For Card Reader Issue: Previously if a terminal was disconnected from the internet, and an authorization was cancelled multiple times in a row, the card reader would hang or get stuck without displaying any errors on the screen. 
14. Fix For Card Reader Issue: Fixed an issue where some merchants experienced an unresponsive card reader for a long period of time. Merchants would previously have to reboot to get the card reader to be responsive again.
Additional Bug Fixes:

15. Fix For Reports: We fixed an issue where  Employee User Name/ID column was showing "Unknown" in some rows.
16. Fix For Reports: Previously if a merchant downloaded a Poynt HQ report as an excel file, they could not sum up the currency cells.
17. Fix For Charge Back Reports: Previously the Print Change Back reports were not showing the correct EMV data.

18. Fix For Employee Permissions: Previously If a merchant edited the -  terminal log In permissions (i.e. update an employee to manager) - on Poynt HQ (merchant web portal), it did not sync with the terminal. 
19. Fix Universal Search: Now a merchant can search Transactions by - transaction ID, credit card number, names, and dates.
20. Fix For Help App: The support Chat button that used to show up in the Help App was no longer displaying. 
We are also including a comprehensive list of our bug fixes in this help article: Spring 2019 Quarterly Bug Fixes. If you want to inquire about a specific issue please email: support@poynt.co