Poynt Processing merchants can use the Deposit report to view their transactions (credit card sales, refunds, voids), as well as fees charged for transacting, payout and terminal.
The Deposits tab will give you details on the last deposit made to your bank account, as well as a list of the previous deposits.
This includes a breakdown of all card sales, refunds and processing and transfers fees associated with that day. If you are renting the Poynt terminal, the rental fee will also show up here at the beginning of each month.
NOTE: If you have a Poynt Debit card, you can find this information under the 'Account Balance' section.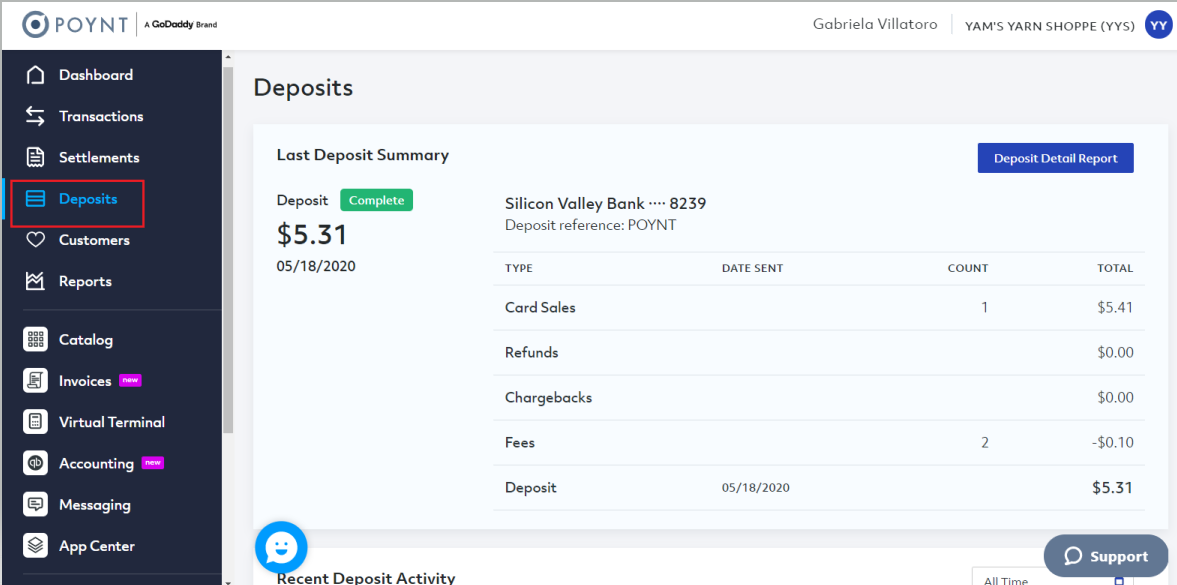 Deposit Details Report:
Clicking on the 'Deposits Detail Report' button will pull up the breakdown of previous day's deposit. The Summary lists out total card sales, refunds, fees (transaction, payout and monthly terminal), and the total deposited into your account.

Transaction fees are based on the total Card Sales processed. 
Transfer to Bank Fee is based on refunds and transaction fee removed from Card Sales.
Deposit total (amount deposited into the your bank account) will be the amount left over after deducting refunds and fees from total card sales.
The monthly fee refers to the terminal fee and is charged at the beginning of each month.
Credit/Debit card transactions
The report further breaks down the transactions between credit and debit cards. In the example below, as there were no transactions made via debit cards, that section is blank.

Sales
This portion highlights the processing fee per transaction.

Note that there is no distinction in transaction fees for credit/debit cards. Both types of cards will incur the same processing fee.
The Deposit noted in the 'Sales' portion does not take into account the payout fee. To see the payout fee, refer to the Summary section at the top of the report.
If you have any questions about your deposits, you can reach our customer support team by logging into Poynt HQ account and sending us an email via Support.