There are two ways to refund a transaction: via the terminal and via Poynt HQ.
Refund via Terminal
Step 1: On the Home screen, click on the Transactions app.
Note: You can also navigate to the Transactions app within the Terminal by selecting the left 3 bar menu in the top left corner and selecting "Transactions".
Step 2: Select the transaction you'd like to refund. This will open the transaction information.
Step 3: If the payment has been captured and settled, the word "Refund" will be displayed. Select Refund.
If a transaction has not been settled, you will see a "Void" option instead of "Refund".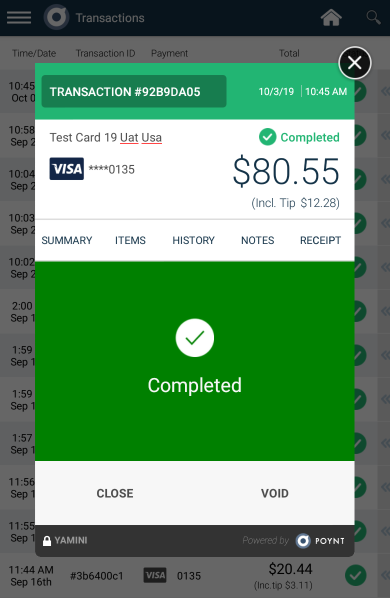 Step 4: Enter in the amount to be refunded. You can either refund the entire amount, or a portion of it.
When the Refund transaction is completed, you will see the transaction record as "Refunded" in Transaction List, and the pop-up details for that transaction record will also show "Refunded".
Note: If processing a refund to a debit card, the debit card must be present in order for the refund to go through. Otherwise the refund will be declined. You can process this as a non-reference refund in this situation. For more details on how to do a non-reference refund, click here.
Refund via Poynt HQ
Step 1: Log into Poynt HQ and go to the Sales tab. Click on the Transactions link to view a list of transactions processed.

Step 2: Find the transaction to refund, and click on the arrow next to it. If the entire transaction needs to be refunded, click on Full Refund button. If refunding only a portion of it, enter in the amount in the Partial Refund box and click on Partial Refund.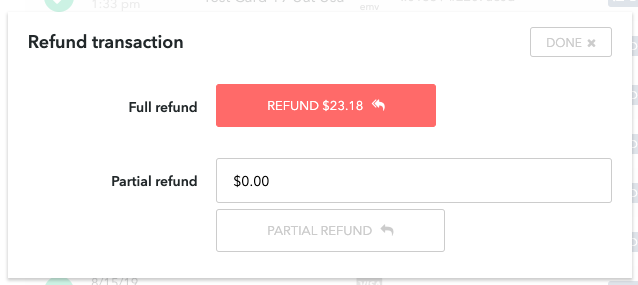 Click OK to confirm refund.
The refunded amount will show up in your transactions list in a few minutes.