Whenever a merchant calls in and say that they are having issues with their WIFI connection, please follow the next steps to troubleshoot the connection.
Identify the type of terminal 
Ask probing questions like (Have you made and recent changes to your network, modem or router?) If YES this could be the reason of the failure, reach out to our support team for a deeper troubleshooting.

If NO please continue to the next step
Can other devices find your network? If YES please continue to the next step

If NO please refer the merchant to their Internet Service Provider since that could be an issue with their internet hardware
Can the merchant turn on or off the Wifi on the terminal? If YES please continue to the next step

If NO ask the merchant if the button is grayed out, since that could be a potencial Antenna damage and the only way to fix the issue is by replacing the terminal.
Guide the merchant on the terminal to forgot the network and re-add the password

Swipe down from top to bottom twice> tap on the gear icon called "settings"> go to Network Settings > Locate the failing network and tap on the name of it > Tap of forget >Go back using the arrow located at the top left corner of your screen and re enter the Network password.

If you encounter an error such as "Authentication problem" "Check password and try again" it means the password is not correct and needs to enter the information again

This step usually fixes the issue, if NOT please follow the next step


Run a diagnostics check
Place the device on the docking station (if applicable)

From the Home Screen, tap on Help icon > Diagnostics.

Tap the first test - WIFI CONNECTION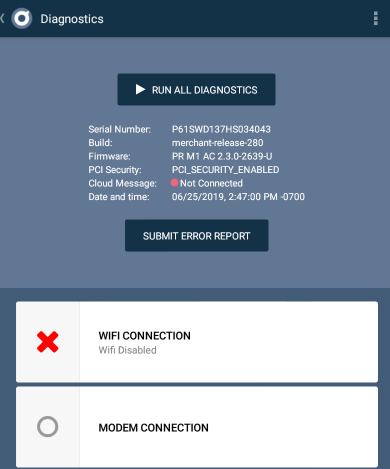 If test = red x,

Go to Wifi Settings

Confirm Wifi is toggled ON and the device is connected to the location's Wifi

If it does not say "Connected", tap on the Wifi network and enter password and tap on "Connect"
Once connected to Wifi, go back to Diagnostics > Tap on first test - WIFI CONNECTION, and Tap on the third test - CAN REACH POYNT SERVERS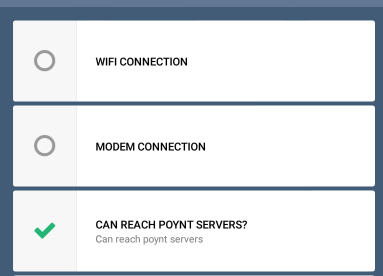 If both tests = green check mark, run a test transaction

If first test WIFI CONNECTION = green check mark, but the third test CAN REACH POYNT SERVERS = red x, reboot if then, wipe the terminal if then, swap terminal. 

If both tests = red x, escalate to Poynt Tier 2 support
Note that there are two known wi-fi issues:
If Wifi On/Off toggle does not turn on, this is an automatic swap. This means there is a defect with the modem and it is not being recognized.

If Wifi turns on but has no wi-fi network available for selection or has fewer networks compared with any other smart devices, this is also an automatic swap.  This means the antenna cable is disconnected from the motherboard.