Under the Account & Settings tab, you have the ability to view and manage business settings, store settings, and manage your team using the terminal users and the web users tab.
Store Settings

Business Profile

Manage Terminal

Manage Device Users

Manage Web Users

Messaging
Store Settings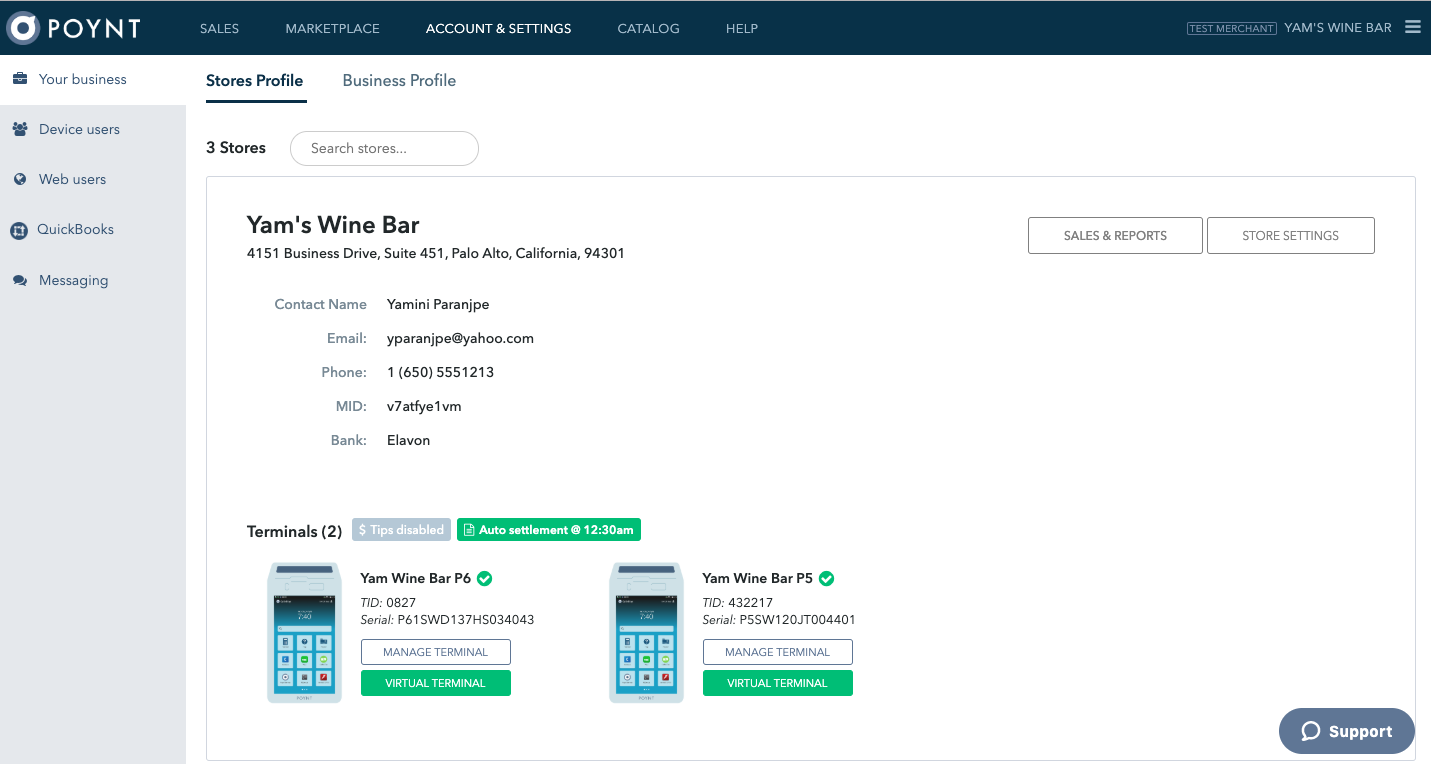 Store Settings allows you to update the store name (updates only in Poynt.net, not on the device), customize logo for email receipts, set tips, customize the screens on terminal, and establish other login and receipt settings.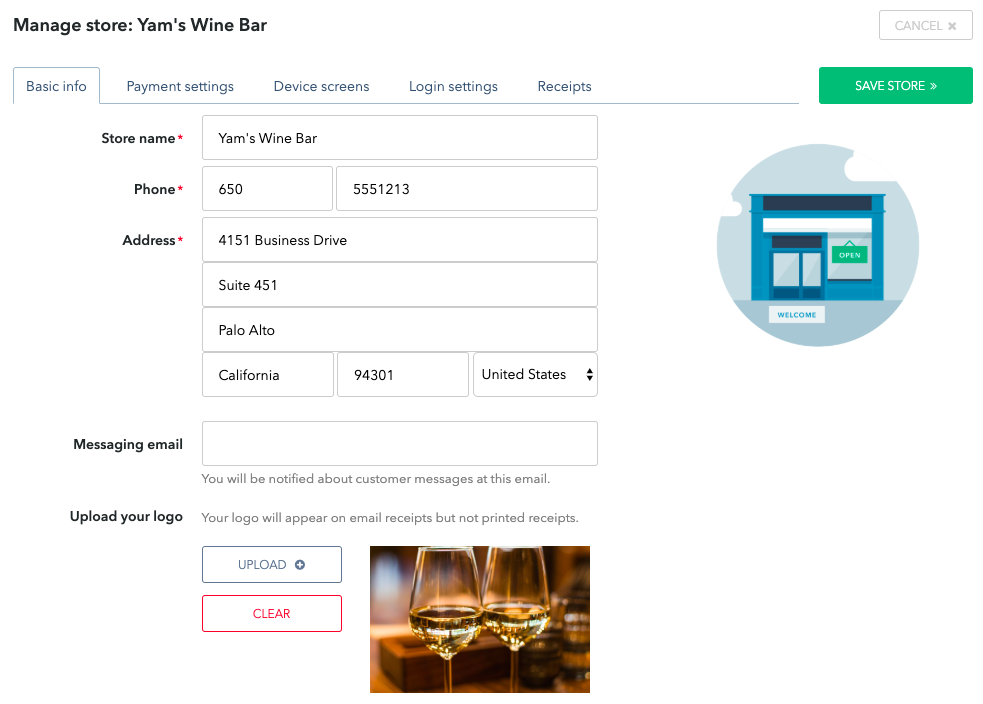 Basic Info: Store Name and address. Address changes will be reflected on the receipt. You can also upload a photo or logo that will show up on emailed receipts (must be on Advanced or Premium plans).
Payment Settings: Enable various methods of payment, tips and set settlement times.
Device Screens: Upload a custom image for both of the screens on the terminal. Enable logos of credit cards accepted by the store.

Dimensions: Merchant Screen

- 800x1280 JPG or PNG /

Customer Screen

- 800x480 JPG or PNG

Login Settings: Customize Sleep and and Auto-Sign out Settings
Receipts: Customize your store's receipts with your business' address and hours and social media handles. You may also toggle off any receipt type that you would like to hide during the customer checkout flow.
Business Profile
Business Profile settings allows you to update your contact information, email preferences, and notifications. To access this, click on Business Profile tab under Accounts & Settings.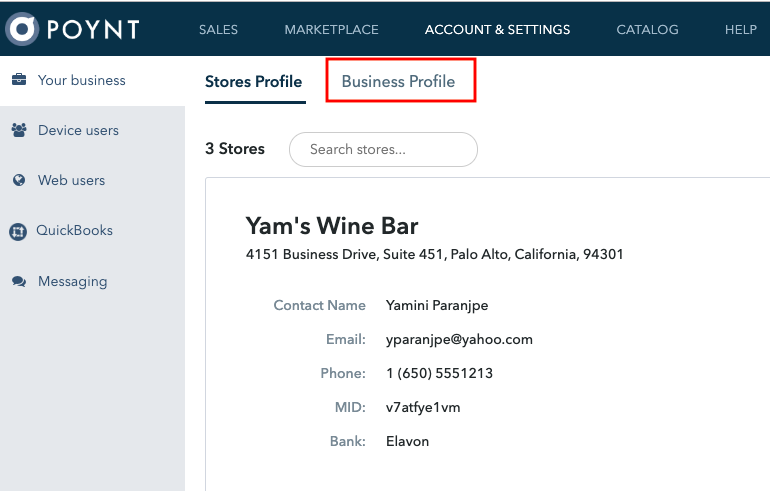 Click on Manage Business.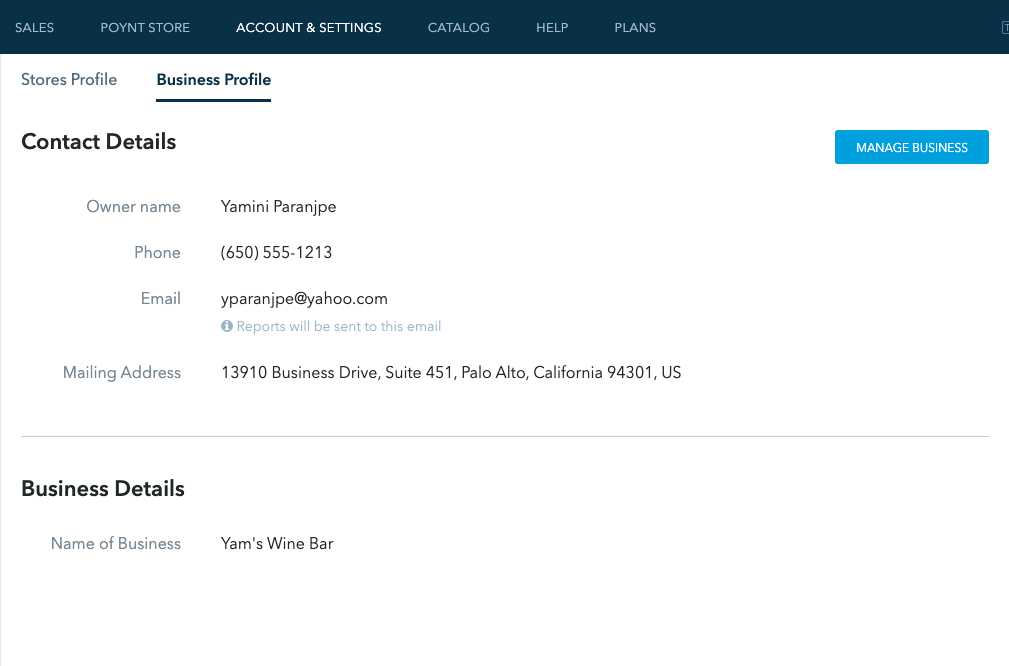 Update business information as needed.
Name: This is the legal name of your company, and how the name will be displayed on the Poynt device. Contact your Reseller if the name or the address needs to be updated.
Email Settings: Allows you to receive emails about the status of your terminal while you're waiting for it to arrive and receive copies of reports you generate on the Terminal or on Poynt HQ (poynt.net).
Allows you to change the name of the terminal, as well as change the catalog associated with it.
Manage Device Users
Along the left-hand menu, you'll see a tab called Device Users. This is where you manage your team and the settings they have access to when using the Device. It will also show you which users are currently logged in on which terminal.
To add device users, click on the Add Device User button on the top right hand side. Enter in the name and username. Choose the drop down menu to assign the user role and click on Add Device User once done.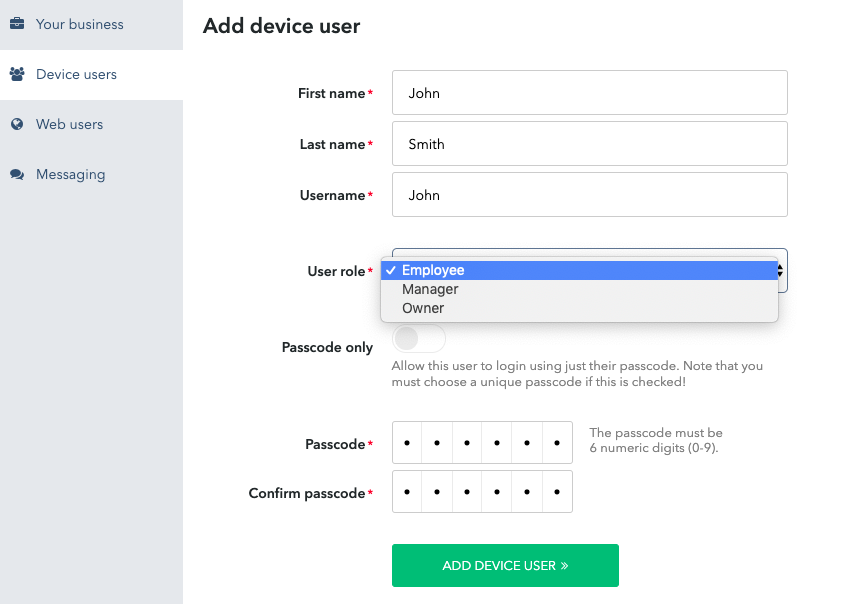 This user will now appear on the device.
NOTE: You can only delete users who are created with Manager or Employee roles. You cannot delete Owners.
On the Home screen of the device, the name in the top right corner indicates which user is logged in. You can swap users on the terminal by clicking this icon and choosing from the list of users. As you can see now, John Smith is now a user on the device and can start using it after logging in.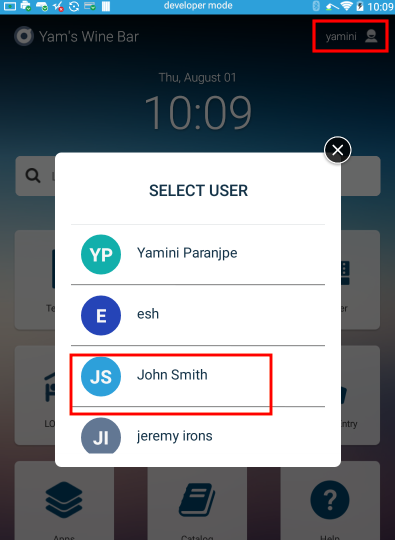 Manage Web Users
Along the left-hand menu, you'll see a tab called Web Users. When a user is invited and creates their login, they will be able to access and manage all of the reports, settlements, and settings that Poynt HQ offers. Please note this and only provide access only to those who need it.

Once the web user accepts the invite and creates an account, you may decide that a web user has access to all stores under the MID, or just a specific store. Edit this setting by selecting the gear icon and toggling off the "Can manage all stores" settings.
Once that setting is deselected, the applicable stores will be visible below that setting so that you may adjust accordingly.
Messaging (Advanced feature)
Receive feedback and message with your customers easily. Resend receipts or marketing messages only to certain customers if you would like.