Merchants who are enabled may accept tips while processing a payment on their Poynt Smart Terminal. With the dual-screen Poynt setup, the customer is empowered to select their own tip amount and receipt on the customer screen.
In this article, we'll cover the following topics:
 Enabling Tips 
To accept tips on the Poynt Smart Terminal, your payment processor must have tips enabled for you on their systems. Restaurant merchants by default are onboarded with tips enabled, but other merchant types may need to opt-in. Please reach out to your reseller organization with assistance with this.
If tips are enabled on your account, an Ask for Tips toggle will appear at Poynt.net/business under Manage Store.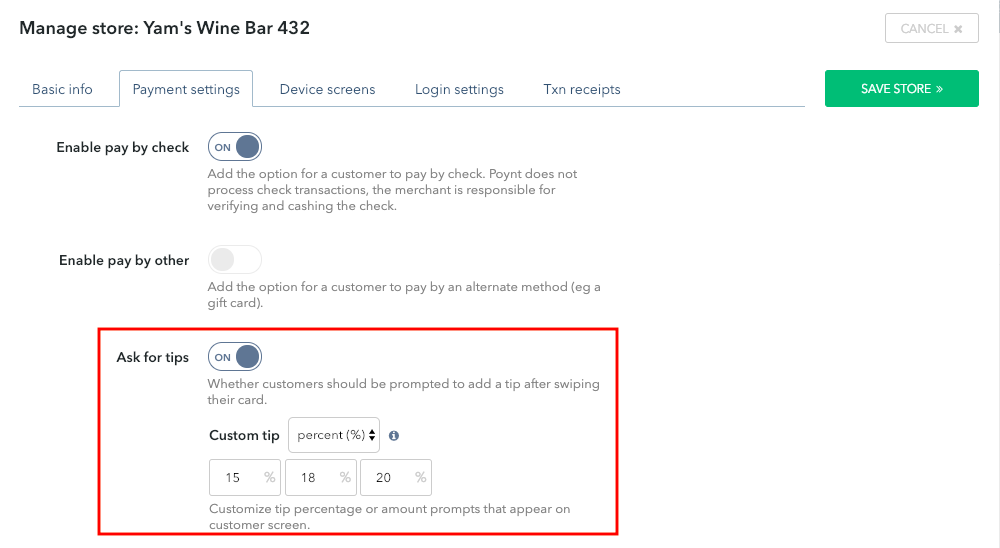 Customize the Tip Amount Displayed
In addition to the "Ask for Tips" toggle, tips can be further customized at Poynt.net/business under Manage Store. Here you can:
Select whether prompted amounts are displayed in dollars ($) or percent of sale (%)

Select three prompted dollar amounts or percentage amounts to display

Offer a Printed Receipt with Tip Line
Step 1: Swipe card
Step 2: Select Tip Amount
Step 3: Have customer sign and click Done
Step 4: Choose Receipt Type